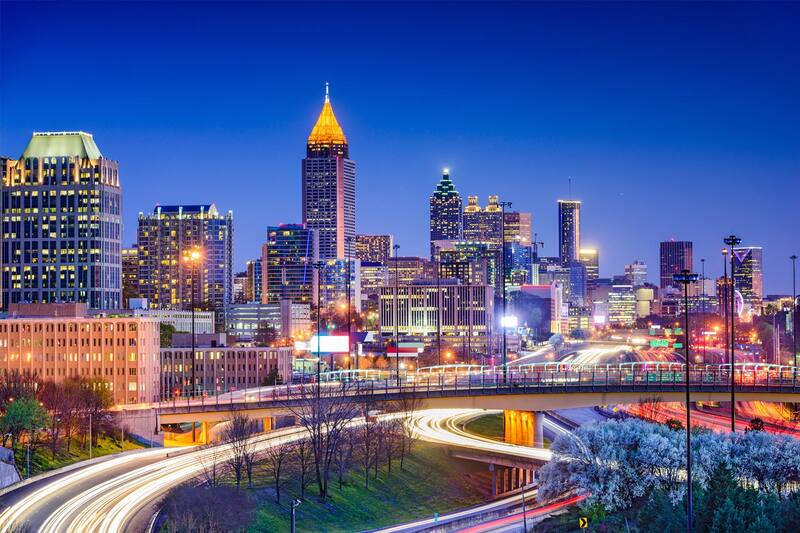 Romantic Restaurants in Atlanta
Searching for a romantic restaurant in Atlanta? Look no further! These top-rated spots are ideal for your next date night.
Go to Bacchanalia for a fine dining experience with a sophisticated atmosphere and yummy menu.
Canoe is perfect for an intimate dinner, set on the riverside with seasonal cuisine.
The Sun Dial Restaurant Bar & View on the 72nd floor of the Westin Peachtree Plaza has stunning city views.
St. Cecilia offers Mediterranean-inspired dishes in an elegant setting.
Create unforgettable memories with these unique dining experiences. Book now!
Plus, for a romantic picnic spot, find a secluded spot, bring some wine, cheese, and mosquito repellent. Try to ignore the urban sprawl.
Picnic Spots in Atlanta
For a peaceful mealtime experience, Atlanta has plenty of options for a picnic. Here are six:
Green Spaces – Piedmont Park, Centennial Olympic Park, and Grant Park have plenty of open space to lay out a blanket.
Historic Sites – For a trip back in time, try Oakland Cemetery or Swan House Gardens.
Waterfronts – Enjoy the view at Chattahoochee River National Recreation Area or Lake Clara Meer while eating your meal.
Gardens – Atlanta Botanical Garden and Gibbs Gardens provide beautiful displays of flora and fauna, perfect for a peaceful picnic.
Parks with Activities – Before or after your meal, enjoy Stone Mountain Park or Sweetwater Creek State Park.
Urban Parks – If you're into cityscapes, Woodruff Park and Candler Park offer great locations for a picnic in the heart of the city.
Remember to check the permit requirements for the park you choose. For extra comfort, bring tablecloths and cushions!
For a unique date night, why not check out one of these hidden gem picnic spots in Atlanta?
Hidden Gem Locations
Are you seeking one-of-a-kind experiences in Atlanta? Here are some hidden gems you'll want to check out!
Visit Oakland Cemetery. Famous figures from Atlanta's history are buried here.
Head to Atlanta Botanical Garden's Japanese Garden for a peaceful break from the city.
Explore African American fine art at Hammonds House Museum in a Tudor-style home.
Sip your coffee and savor pastries at Chrome Yellow Trading Co., one of Atlanta's best-kept secrets.
Go back in time at Joystick Gamebar. Enjoy classic arcade games and creative cocktails.
Explore further! Decatur is a great place to find hidden culinary gems. A friend once found an underground speakeasy bar below a hot dog stand, but you need to know the secret handshake to get in.
Spice up your date in Atlanta with a daring adventure. Nothing says "romance" like almost dying and a hint of adrenaline!
Adventure Dates in Atlanta
If you're looking for an adrenaline-filled date in Atlanta, here are some ideas!
Go hiking on Stone Mountain or take a stroll on the Chattahoochee River nature trails.
Treetop Quest and other adventure parks offer zip-lining or canopy tours.
Watch the cars zoom on the track at Atlanta Motor Speedway.
My pals had a memorable date on Stone Mountain. They tried their luck at rock-climbing and enjoyed the beautiful sunset!
You can also check out Archer Paper Goods to get creative with your partner.
Romance up your outing with a visit to the art museums and galleries. Explore abstract art together!
Arts and Culture Dates
Soak up Atlanta's culture with a variety of Arts and Culture Dates. Visit The High Museum of Art for art classes, guided tours and exhibitions. Check out the Krog Street Tunnel, decorated with graffiti and murals by local artists. Movie-lovers can head to the historic Plaza Theatre for screenings. And, the Center for Puppetry Arts puts on puppet shows for kids and adults.
For a unique experience, take a self-guided tour of Atlanta's street art to find hidden gems not on maps or guides. Don't forget the annual ELEVATE festival in October to experience 11 days of public art, lectures and performances. Or, get sweaty with your bae playing one-on-one basketball – just bring your A-game and some deodorant!
Sports and Recreation Dates
To plan exciting sports and recreation dates in Atlanta, turn to "Sports and Recreation Dates" section with sub-sections "Sporting Event Dates" and "Fitness and Outdoor Recreation Dates". These ideas will help you to find the best spots in the city to explore outdoor activities, enjoy exciting sports events, and break a sweat with your special someone.
Upscale Dining Options
Upscale dining is all about the experience. Enjoy exquisite cuisine crafted by renowned chefs, service that is impeccable, and an atmosphere that is elegant and refined – perfect for a special occasion or a romantic night out. You'll also find expansive wine lists with offerings from all over the world. Plus, many offer private dining.
High-end dining has been around since the times of Ancient Rome and China, where they hosted lavish feasts to show off wealth and power. It has since become an important part of many cultures. So, when seeking a romantic setting, make sure the food is worth it!
Cozy and Intimate Eateries
For a romantic and intimate dining experience, consider restaurants with a cozy ambiance. Dim lighting, soft music and comfortable seating are all part of the atmosphere. Private dining rooms and secluded outdoor seating might be available.
Check out the menu options too. Look for places that offer a variety of dishes to satisfy your dietary needs and preferences. They might specialize in a certain cuisine like French or Italian, or they could offer fusion or experimental fare.
Arrive earlier in the evening when it's quiet and there are fewer people. This'll help create a more relaxed atmosphere and give you more time to enjoy each other's company over a leisurely meal.
Pro Tip: Request a specific table or area when making reservations. This will help create the most intimate dining experience.
Parks with Scenic Views
Parks Providing Magical Views!
Marvelous parks offer visitors incredible views of nature's wonders. These picturesque landscapes provide recreational activities for outdoor lovers and casual goers alike.
Spectacular panoramic views of the scenery.
Facilities such as hiking trails, picnic spots, and playgrounds.
Opportunities to bird watch or take a peaceful family stroll.
Choose to relax amidst the park's serenity or try exciting activities, like rock climbing.
Idyllic grounds great for outdoor photoshoots, picnics, or romantic walks with your partner.
The sights and sounds vary when visiting these parks only a few hours apart. As you explore each park, look out for remarkable display surprises not visible at first sight.
When you savor nature's beauty at these majestic parks filled with natural marvels, and legendary hikes and trails. You will relish amazing experiences every time.
If you want to witness captivating visuals or would like to test your physical endurance with different activities while spending quality time with family and friends amid amazing views – think about visiting such gorgeous parks. When it comes to picnic locations, forget the common ones such as parks and beaches, and opt for something extraordinary, like a cemetery or a construction site.
Unique Picnic Locations
Picnics are a great way to spend time outdoors with your loved ones. Finding unique places can make your picnic even more special. Here are 5 amazing picnic spots that will leave you in awe:
A Secluded Beach Cove with Magnificent Views
A Rooftop with a Cityscape as a Background
A Botanical Garden Oasis
Paddle-boating with a Picnic on the River
A Picturesque Mountain Outlook
You can also add to the fun by organizing activities such as frisbee, photography contests, or hikes suitable for all levels.
Take Bridget, for example. She planned a romantic picnic for her partner. She chose the rooftop with the cityscape as a backdrop. She also prepared their favorite food and music. The beautiful sunset made it even more lovely, and they ended up dancing under the stars.
Make your date night even better by taking your drinks and views to the next level at these amazing rooftop bars and lounges.
Rooftop Bars and Lounges
Rooftop Hangouts: Where Delicious Drinks and Views Unite!
Treat yourself to a cocktail while taking in the panoramic city-view. Delight your taste buds with some of the best drinks at amazing venues with gorgeous views.
Unwind in these luxurious spots
Enjoy yummy beverages and snacks
Witness remarkable sunsets with your loved ones
Mingle with peers at trendy lounges
Glamorous Rooftop Bars – Finely Tuned for Pleasure
Heighten your rooftop experience with the beauty of nature. These special bars provide more than just drinks – they offer an incredible atmosphere, great customer service, and excellent service.
Why not give our exclusive hangouts a try? Savour the delightful delicacies and splendid atmosphere. Don't miss out! Plus, nothing beats sipping on a latte with a side of hipster in a quaint coffee shop.
Quaint Coffee Shops
Unearth Hidden Treasures! Search for Quaint Coffee Shops.
Explore a new city or town with excitement! One of the best ways to do it is by discovering its quaint coffee shops. These hidden gems are sure to take you back in time.
Keep your eyes peeled for these tucked away coffee spots, off the main roads. Inside, you'll find vintage decor, cozy seating and unique coffee blends.
Not only for coffee-lovers, these shops serve as a gathering place for locals. Enjoy your cuppa in a relaxed atmosphere and indulge in homemade treats.
Don't miss out on this extraordinary experience! Add visiting these charming coffee joints to your list of things to do.
Outdoor Activities
Outdoor Activities are an awesome way to exercise and explore while admiring nature's splendor. Here are a few methods to have outdoor fun:
Do thrilling activities such as zip-lining, rock climbing, and white water rafting.
Go on hiking trails of various levels. Admire the views, plants, and wildlife.
Take part in water sports such as kayaking, canoeing, and paddle-boarding on nice rivers or lakes.
Play team sports like soccer, volleyball, or touch football in open fields.
Aside from these stimulating activities, outdoor excursions leave you feeling energetic and promote physical and mental health. Bond with family and friends while connecting to nature.
Are you looking for an extraordinary time? A hiker once told me he saw a stunning wolf in the Rockies. It is not just about the rush, but also the peace that comes from being one with nature while discovering it.
Inside, you can't hear your date scream…in joy on the roller coaster, of course!
Indoor Thrills
Indoor Thrills is the perfect destination for those seeking a rush. Here are five amazing options:
Indoor skydiving to test your limits,
Virtual reality experiences,
Rock climbing in an indoor gym,
Axe or knife throwing, and
Escape rooms for friendly competition.
Book a private session or bring a group of friends for an extra thrill. Don't forget to check age restrictions and fitness requirements before booking! Who needs art when you can watch grown adults chasing a ball around for hours? #SportsOverArt #RecreationRules
Museums and Galleries
The Chronicle of Artifacts and Paintings.
Exploring historic and artistic masterpieces in museums and galleries provide a chance to step back in time. Guided tours uncover the significance of each piece and its creator. Plus, special events like opening receptions give visitors an immersive experience.
Sculptures and architecture form part of the collections. From ancient marble figures to modern installations, the diversity of art ensures a unique experience every visit. Art lovers may take home a special artifact or painting.
In Florence, a 1966 flood damaged artwork from renowned masters like Michelangelo and Leonardo da Vinci. Volunteers around the world put in a huge effort to save these priceless pieces. This prompted other institutions to review their protective measures for their collections.
Theatres and Performing Arts
Performing Arts and Theatres are the heart of art, entertainment, and culture. They offer an array of unique performances that appeal to different audiences. From classic theatre dramas to modern musicals, these venues provide a platform for talented actors, singers, dancers, musicians and other artists to show off their skills.
These performances explore various themes such as love, society, morality, and politics, often sparking thought-provoking conversations. Over the years, Theatres and Performing Arts have had a significant role in the development of artistic expression and how it has shaped society's perception.
Apart from conventional shows, there are also experimental productions that seek to break boundaries with inventive techniques. This mix of creativity makes Theatres and Performing Arts an exciting segment to discover different cultures through art.
Drama originated in Ancient Greece and allowed actors to portray multiple characters through masks.
Why date someone who makes your heart flutter when you can date someone who gives you tickets to the show?
Sporting Event Dates
For those wanting to know the dates of upcoming sports and recreation events, here's what you need to know!
Mark your calendars.
Book your tickets now.
Don't miss out on key dates for significant games and competitions.
Be aware that not all events have confirmed dates yet. Keep an eye out for updates on official websites and social media pages.
Once, a group of friends had a plan to watch their fave team in a championship game. But, due to unexpected weather, their flights were cancelled. So, they turned their trip into a fun vacation instead!
Why go to the gym when you can go for outdoor recreation dates with your special someone? It's the ultimate fitness routine!
Fitness and Outdoor Recreation Dates
Fitness and Outdoor Recreation Dates are awesome opportunities to exercise and explore nature! These events involve activities such as hiking, biking, camping, fishing, and rock climbing.
Here are a few points about them:
These dates are great for individuals and families to stay healthy and enjoy nature.
People can meet other outdoor enthusiasts to maintain an active lifestyle.
The events cater to different age groups and skill levels.
Experts offer tips on how to enjoy the events safely and learn about nature conservation.
Attendance fees vary depending on the activity.
Fitness and Outdoor Recreation Dates encourage physical challenges and raise public awareness of local natural landscapes. A great example is a local council who organized walking soccer games for seniors in a park. This project showed how important it is to promote healthy lifestyles among older adults. This success has motivated many more communities to start similar programs!
Frequently Asked Questions
1. What are some unique date ideas in Atlanta?
Some unique date ideas in Atlanta include visiting the Georgia Aquarium, exploring the Atlanta Beltline, attending a live performance at the Fox Theatre, visiting the Martin Luther King Jr. National Historic Site, taking a hot air balloon ride, and exploring the city's street art scene.
2. What are some budget-friendly date ideas in Atlanta?
Some budget-friendly date ideas in Atlanta include visiting Piedmont Park for a picnic or a walk, exploring the Atlanta Botanical Garden during free admission hours, attending a free outdoor concert or movie screening, visiting the Atlanta History Center during free admission hours, and taking a self-guided street art tour.
3. What are some romantic date ideas in Atlanta?
Some romantic date ideas in Atlanta include taking a sunset helicopter tour of the city, enjoying a private horse-drawn carriage ride through downtown, taking a couples' cooking class, going on a wine tasting tour, or having a romantic dinner at a restaurant with a view.
4. What are some indoor date ideas in Atlanta?
Some indoor date ideas in Atlanta include visiting the World of Coca-Cola museum, exploring the High Museum of Art, attending a painting class at Painting with a Twist, visiting the Center for Civil and Human Rights, or going to an escape room together.
5. What are some outdoor date ideas in Atlanta?
Some outdoor date ideas in Atlanta include exploring the Atlanta Botanical Garden, visiting the Atlanta Zoo, hiking up Stone Mountain for a picnic with a view, going kayaking or paddleboarding on the Chattahoochee River, or taking a bike ride on the Atlanta Beltline.
6. What are some adventurous date ideas in Atlanta?
Some adventurous date ideas in Atlanta include indoor skydiving at iFLY, going bungee jumping at the SkyCoaster, taking a zip line tour of the North Georgia mountains, going on a hot air balloon ride, or going on a tandem hang gliding experience.