Looking for some exciting date ideas in Nashville? Look no further! My partner and I have explored the city's many attractions and found some amazing spots that are perfect for a romantic night out.
From live music to delicious food, we've got you covered. Nashville is known as the Music City, so it's only fitting that we start with live music. There's nothing quite like experiencing the energy of a live performance with your loved one by your side. Whether you're into country, rock, or jazz, there's something for everyone in Nashville.
We'll also explore the great outdoors and indulge in some delicious food and drinks. With so much to see and do in this vibrant city, there's never a dull moment when it comes to dating in Nashville. So let's get started!
Enjoy Live Music
You'll love soaking up the sounds of Nashville's vibrant live music scene. From intimate singer-songwriter sets to rowdy honky tonks, there's something for every music lover here.
If you're looking for a unique date idea, try enjoying rooftop views while attending a concert. Many venues offer outdoor spaces with stunning views of the city skyline, making for an unforgettable experience.
One of my favorite spots to catch live music is at The Bluebird Cafe. This intimate venue is famous for hosting some of the biggest names in country music, and it's not uncommon to see songwriters perform their hits in an acoustic setting. The atmosphere is cozy and romantic, perfect for a special night out with your significant other.
For those who prefer a more lively atmosphere, head over to Broadway where you'll find countless honky tonks blasting out country tunes until the wee hours of the morning. Grab a beer and hit the dance floor with your date – it's sure to be a memorable night! And when you need a break from all that dancing, step outside onto one of the many rooftop bars where you can take in panoramic views of downtown Nashville.
If you're ready to take your date outdoors, let's explore some of Nashville's natural beauty together!
Explore the Outdoors
Let's explore Nashville's great outdoors! We can start by hiking in one of the many beautiful parks around the city, like Percy Warner or Radnor Lake.
If we're feeling more relaxed, we could take a scenic drive through Natchez Trace Parkway or along the Harpeth River.
And for some real adventure, we can go on a riverboat cruise down the Cumberland River and see Nashville from a whole new perspective.
Let's get outside and enjoy all that this vibrant city has to offer!
Hike in the Beautiful Parks
Hiking in Nashville's stunning parks is a perfect way to enjoy the outdoors and each other's company. With so many options for hiking trails, waterfalls, and picnic spots with scenic views, exploring Nashville's nature reserves together can be an unforgettable experience.
One of the most popular parks for hiking is Radnor Lake State Park. The park offers over six miles of trails around a beautiful lake nestled in the hills of Tennessee. The trail isn't too steep but will still provide you with a good workout as you hike through lush greenery.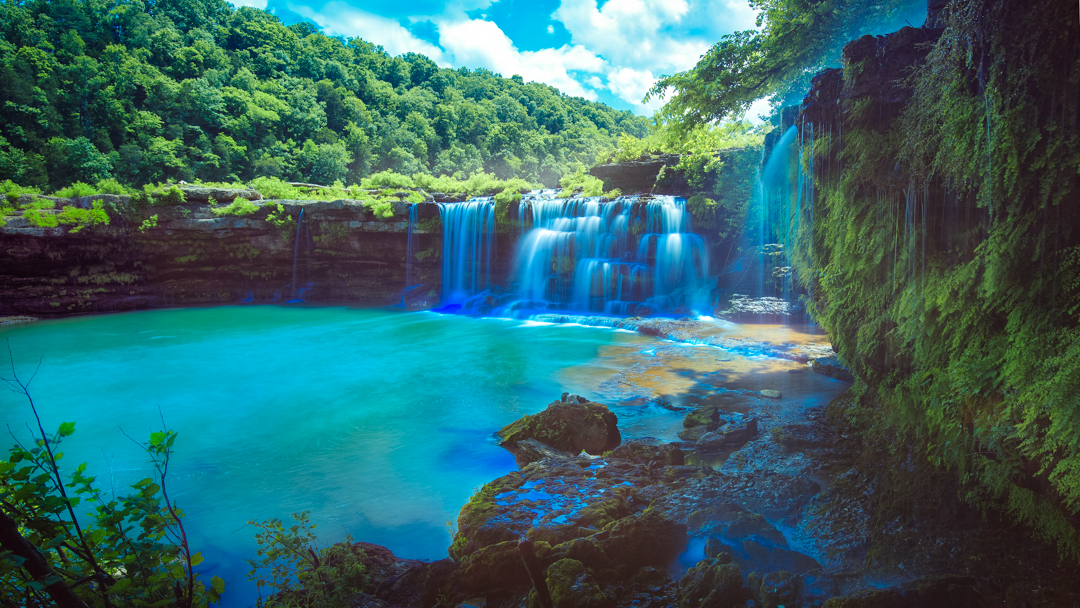 Another great option for hiking is Percy Warner Park where you can take in spectacular views of the city skyline while enjoying the fresh air. Whether it's your first time hiking or just one of many adventures together, these hikes are sure to create memories that will last a lifetime.
After experiencing Nashville's natural beauty on foot, why not take a scenic drive? There are plenty of roads to choose from that offer breathtaking views such as Natchez Trace Parkway or Cheatham Wildlife Management Area.
As we hit the road together and bask in the scenery surrounding us, let's continue our adventure and discover more date ideas in Nashville.
Take a Scenic Drive
Driving through Nashville's picturesque routes is a feast for your eyes, with stunning views that will make you want to stay on the road forever. As you drive through winding roads and rolling hills, take in the beauty of the city's natural landscapes.
One of our favorite things to do is to stop at scenic lookout points along the way where we can soak up the breathtaking views of downtown Nashville and beyond. While enjoying this scenic drive, be sure to keep an eye out for hidden gem picnic spots where you can pull over and enjoy a meal with your loved one.
These secluded spots offer privacy and intimacy while still allowing you to take in the beauty of Nashville's outdoors. We highly recommend packing a blanket, some refreshments, and maybe even a guitar or two for some romantic music under the sun.
As much as we love taking in scenic drives throughout Nashville, nothing beats experiencing its beauty from the water. So why not step aboard a riverboat cruise?
Go on a Riverboat Cruise
You can't miss out on the riverboat romance in Nashville! A sunset sail on the Cumberland River is one of the most romantic date ideas this city has to offer.
Board a charming riverboat and watch as the sun sets over Nashville's skyline, casting a golden glow over the water. The gentle breeze and soothing sounds of the river create an intimate atmosphere that will leave you feeling connected with your partner.
As you glide along, take in breathtaking views of iconic landmarks such as Nissan Stadium and the John Seigenthaler Pedestrian Bridge. The soft light of dusk creates a dreamy ambiance that is perfect for snuggling up with your loved one.
Whether it's your first date or an anniversary celebration, a riverboat cruise is sure to be a unforgettable experience.
And if all this romance leaves you hungry, fear not! Next up, we'll indulge in delicious food and drinks at some of Nashville's top spots.
Indulge in Delicious Food and Drinks
Hey there! If you're anything like us, then trying new and delicious foods is a top priority when traveling. Lucky for you, Nashville has some amazing options when it comes to Southern cuisine.
From hot chicken to biscuits and gravy, we've got you covered. But don't stop there – make sure to also check out the local distilleries and breweries for some fantastic drinks.
And if you want to hit all the best spots in town, we highly recommend taking a food tour. Trust us, your taste buds will thank you!
Try Local Southern Cuisine
Indulge in some mouth-watering Southern dishes to truly experience the flavors of Music City. There are many options for trying local cuisine, from traditional meat and three restaurants to upscale eateries with a twist on classic dishes. If you're feeling adventurous, consider taking one of the Southern cooking classes offered throughout the city. You'll learn how to make everything from hot chicken to biscuits and gravy, and get a taste of Nashville's culinary heritage.
If you're visiting during the right time of year, be sure to check out one of Nashville's food festivals. The Music City Food + Wine Festival is a two-day event featuring tastings from top chefs and wine makers, while the Tennessee Craft Fair showcases artisanal foods made by local producers.
No matter where you choose to dine or what you decide to try, make sure you save room for dessert – there's nothing quite like a slice of pecan pie or banana pudding to round out your meal.
As we move on to our next adventure in Nashville, let's not forget about the drinks! Visit the distilleries and breweries around town for some locally crafted beer and spirits – we'll show you where to find them.
Visit the Distilleries and Breweries
Don't miss out on checking out the local distilleries and breweries – you'll love sampling the handcrafted beer and spirits Music City has to offer.
Nashville is known for its whiskey tastings, so why not start your tour of the city's alcohol scene with a trip to Nelson's Green Brier Distillery? You can learn about its history and sample some of their award-winning Belle Meade Bourbon.
Or head over to Corsair Artisan Distillery for a unique tasting experience – they offer flights of their experimental whiskeys made with unusual ingredients like quinoa, hickory smoke, and pumpkin spice.
If beer is more your style, there are plenty of brewery tours to choose from in Nashville. The Yazoo Brewing Company offers a fun tour that includes samples of their craft beers and an opportunity to see how they're made. You could also check out Jackalope Brewing Company or Tennessee Brew Works for more delicious brews.
No matter which distillery or brewery you choose, you're sure to have a great time exploring this aspect of Nashville's culture.
Ready for another adventure? Take a food tour through some of the city's best eateries!
Take a Food Tour
If you're looking for an immersive experience that'll tantalize your taste buds, take a food tour through some of Music City's most renowned restaurants and eateries.
Nashville is known for its foodie hotspots, and a food tour is the perfect way to explore the city's culinary gems. From Southern comfort food to international cuisine, there's something for every palate.
In addition to savoring delicious dishes, many food tours also offer culinary classes where you can learn how to make some of the signature dishes yourself. This hands-on experience allows you to not only enjoy the flavors but also gain knowledge about the ingredients and techniques used in preparing them.
So come hungry and get ready to indulge in Nashville's vibrant gastronomic scene! And when you've satisfied your appetite, it's time to experience the city's cultural heritage by exploring its museums, art galleries, and historic landmarks.
Experience the City's Cultural Heritage
You can soak up the rich history of Nashville by exploring its cultural heritage, including visiting iconic landmarks like the Ryman Auditorium or taking a tour of the Country Music Hall of Fame. Walking through the halls of these artistic exhibitions and historical landmarks feels like stepping back in time to witness some of Nashville's most significant moments.
The Ryman Auditorium is known as the 'Mother Church,' where legends like Johnny Cash and Patsy Cline have performed. Another must-visit spot for music lovers is the Goo Goo Cluster store. This charming little shop offers delicious handmade candy treats that have been a staple in Nashville since 1912. You can even catch them making fresh batches right before your eyes!
If you're looking for something more educational, check out The Hermitage, Andrew Jackson's historic home. This beautiful estate offers guided tours through Jackson's preserved mansion and grounds, giving you an insight into his life and times. While experiencing Nashville's cultural heritage, don't forget to take a stroll down Broadway. Here you'll find honky-tonks with live music pouring out into the streets, creating an atmosphere that truly sets Nashville apart from any other city in America.
You can also explore some local art galleries and museums where talented artists showcase their work inspired by this vibrant city – it's hard not to be inspired yourself! So come on down and let us show you what makes our city so special.
Now that we've explored some of Nashville's rich cultural heritage, it's time to have fun and be adventurous! In our next section, we'll share exciting date ideas that will create unforgettable memories for couples who are ready to experience everything this amazing city has to offer. From outdoor activities to romantic dinners under starry skies – we've got something for everyone!
Have Fun and Be Adventurous
Let's spice things up and be a little adventurous!
If you're tired of the traditional dinner and a movie date, why not try something new?
How about taking to the skies on a hot air balloon ride, feeling the rush of indoor skydiving, or getting lost in an escape room challenge?
These unique experiences are sure to create lasting memories and add some excitement to your date night.
Go on a Hot Air Balloon Ride
Experience the thrill of soaring high above the city on a romantic hot air balloon ride. Hot air ballooning is an unforgettable experience that offers a unique perspective of Nashville's skyline and surrounding landscapes. As you ascend into the sky, you'll feel a sense of freedom and weightlessness that's hard to replicate elsewhere.
Not only is hot air ballooning exhilarating, but it also has numerous benefits. It provides an opportunity for couples to bond over a shared adventure and create lasting memories together. Additionally, it allows you to disconnect from technology and immerse yourself in nature's beauty.
Before embarking on your ride, be sure to follow safety tips such as wearing comfortable clothing and shoes, listening carefully to instructions from your pilot, and checking weather conditions beforehand.
Are you ready for your next adrenaline-pumping activity? Try indoor skydiving!
Try Indoor Skydiving
If you're looking for an exhilarating way to experience the thrill of skydiving without jumping out of a plane, then indoor skydiving is the perfect date activity for you. Not only does it provide an adrenaline rush like no other, but it also offers several benefits that make it well worth your time and money.
Firstly, indoor skydiving is a safe and controlled environment where you can learn how to fly and feel weightless. This unique experience stimulates both your mind and body as you learn new skills while having fun with your partner. Additionally, indoor skydiving doesn't require any prior experience or training, making it accessible to anyone who wants to try something new.
If you're a first-timer, here are some tips: wear comfortable clothes, listen carefully to your instructor's instructions, keep your chin up and eyes focused straight ahead during flight.
Looking for another thrilling date idea? Let's move on to visiting an escape room!
Visit an Escape Room
You'll have a blast challenging yourselves and working together to solve puzzles and escape the room at an escape room in Nashville. These interactive games will test your teamwork skills as you attempt to crack codes, find hidden objects, and ultimately escape within the allotted time.
It's the perfect date idea for couples who want to bond together while having fun. Escape rooms come in various themes, from haunted houses to bank heists, so you can choose one that suits your interests.
As you work through the challenges, you'll learn more about each other's strengths and weaknesses, which can help strengthen your relationship outside of the game. So why not put your heads together and try to escape the room in Nashville?
It's a unique experience that will leave you feeling closer than ever before.
Frequently Asked Questions
What are some unique date ideas in Nashville that are not mentioned in this article?
When it comes to planning a romantic outing, there's nothing quite like the thrill of exploring the great outdoors together. From hiking through scenic landscapes to kayaking down tranquil rivers, there's no shortage of outdoor adventures waiting to be discovered in Nashville.
But if you're looking for something with a little more cultural flair, why not try experiencing some of Music City's rich history and vibrant arts scene? Whether it's catching a show at one of the city's many theaters or visiting a local art gallery, there are plenty of unique date ideas that showcase Nashville's diverse culture.
So if you're looking to spice things up and create lasting memories with your significant other, consider venturing beyond the typical dinner-and-a-movie routine and explore all that this vibrant city has to offer.
Are there any affordable date options in the city?
Looking for affordable date options in Nashville? Look no further than the great outdoors! The city is home to some of the best outdoor date spots, perfect for those on a budget.
From hiking trails and picnics in Centennial Park to strolling through the lush greenery at Cheekwood Estate & Gardens, there are plenty of romantic options that won't break the bank.
Take a scenic drive to Percy Priest Lake and spend an afternoon fishing or pack a cozy blanket and watch the sunset at Love Circle Park. With so many beautiful spots to choose from, you'll be sure to impress your date without spending a fortune.
What are some romantic spots in Nashville for couples?
Nashville is a city that's filled with romantic spots for couples to enjoy. From the best restaurants that offer delicious cuisine and intimate atmospheres, to outdoor activities like hiking trails and picnics in the park, there are plenty of ways to spend quality time together.
If you're looking for hidden gem locations, be sure to check out some of Nashville's lesser-known parks and gardens, such as Cheekwood Estate & Gardens or Centennial Park. For cultural experiences, consider visiting one of the many art galleries or museums in the area.
No matter what your preferences are, Nashville has something special in store for you and your significant other. So why not plan a date night today and explore all of the romantic possibilities this city has to offer?
How do I navigate the city's traffic and parking during a date night?
Navigating traffic and finding parking can be a daunting task, especially on date night. However, with a few tips and tricks, you can make the experience much more enjoyable.
One of the best ways to avoid congestion is by planning your route ahead of time and being flexible with your travel times. Rush hour in Nashville tends to be between 7-9am and 4-6pm, so try to plan your date outside of these hours if possible.
Additionally, consider using alternative modes of transportation such as ride-sharing or public transit to avoid the hassle of finding parking altogether.
With a little bit of planning and creativity, navigating Nashville's traffic on date night can be a breeze!
Are there any date ideas specifically geared towards LGBTQ+ couples in Nashville?
It's ironic how in a city known for its country music and conservative roots, Nashville has become a hub of LGBTQ+ friendly establishments and events.
From bars like Play Dance Bar and Tribe to restaurants like Suzy Wong's House of Yum and The Mockingbird, there are plenty of places to grab a drink or bite to eat with your significant other.
But the fun doesn't stop there – Nashville hosts a variety of LGBTQ+ community events and festivals throughout the year, including Nashville Pride and Outloud Music Festival.
So if you're looking for a date night that celebrates love in all forms, Nashville has got you covered.
Conclusion
Overall, Nashville offers a plethora of date ideas that cater to every interest and budget. From live music to outdoor adventures, the city has something for everyone.
Whether you're looking to indulge in delicious food and drinks or experience the city's cultural heritage, Nashville will not disappoint. But don't take our word for it – get out there and explore!
With so many options available, you never know what exciting adventure awaits. So grab your significant other and make a plan to discover all that this amazing city has to offer. Who knows? Your next unforgettable date could be just around the corner.
So go ahead, take the leap, and let Nashville surprise you with an unforgettable night out on the town.